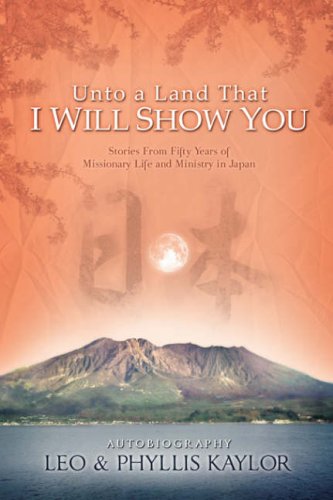 Unto A Land That I Will Show You - Sample Pages
$0.00
by Leo & Phyllis Kaylor
ISBN:  978-1-60034-730-6    Softcover, 272 Pages     6" x 9"
The complete print and digital versions of the book are available for purchase through Amazon.com (click here).
Unto A Land That I Will Show You is a present-day ministry autobiography that will take you on a journey filled with excitement, romance, risks, miracles, and challenges of two young missionaries who venture to Japan following World War II. 

You will be:
Impacted by their simple obedience to God's call.
Captivated by a heart-warming love story.
Challenged by their perseverance in reaching an unreached nation.
Inspired by the accounts of Japanese lives transformed by the power of Christ.
Table of Contents:
Leo's Story

Phyllis' Story
Together in Life and Ministry
1953 - 1957 | Early Days of Ministry
1957 - 1969 | Omuta
1969 - 1973 | Yakushima and Kagoshima
1973 - 1974 | Under Pastor Iverson's Ministry
Our Children
1974 - 1987 | We return to Omuta
Our Children Move on in Life
1987 and Onward | Significant Milestones
Planting Churches
Stories of God at Work
Tributes, Memories, and Daddy's Passing
Expressions from Our Children
And the Journey Goes On
A Final Word
Glossary
The complete print and digital versions of the book are available for purchase from this online retailer: